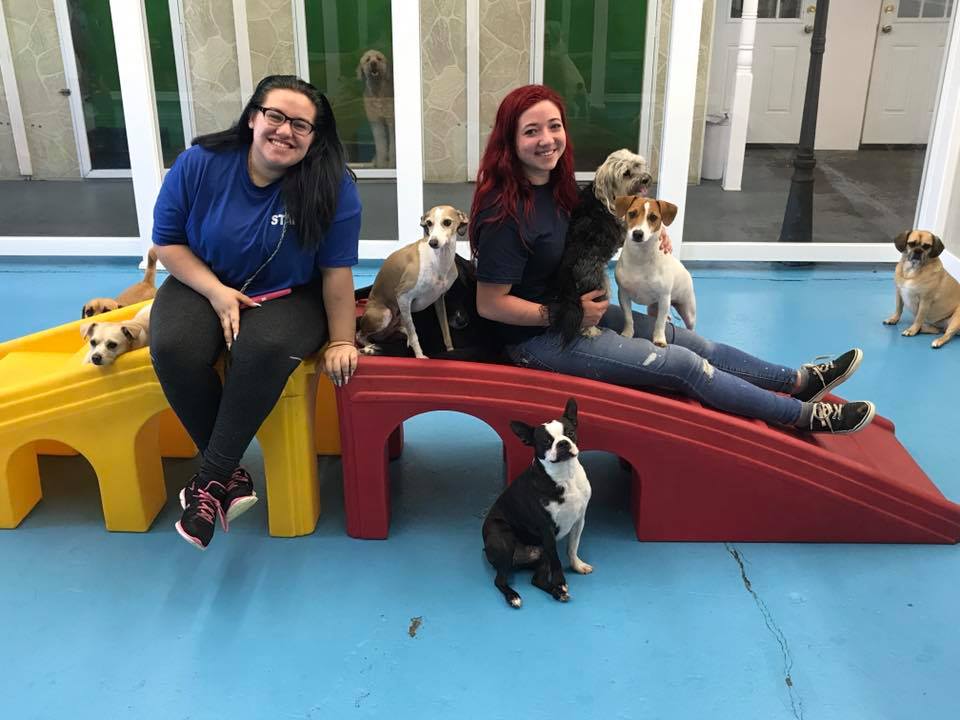 HTUSA's Third Location Grows 60% Over Last Year to Become Top Franchisee
April has gone to the dogs over at Hounds Town Farmingdale. The fully interactive doggie daycare and boarding facility—which opened in 2012 and was sold to employees Jennifer Jung and Candice Lorenzana as well as former customer Maria Gillen in May 2015—has officially turned heads with their recent record breaking month. As compared to April 2016, the pet care franchise unit has grown more than 60% and more than doubled the amount of dogs (and revenue) they hosted compared to last year during the same month. In April 2017, they hosted more than 1,600 doggie visitors, reaching near capacity and surpassing all other Hounds Town locations in visitors and revenue, despite being the smallest.
This is impressive, given that last year's numbers were impressive, too. "Clearly, Hounds Town Farmingdale is offering a much needed service to members of the community," says Jackie Bondanza, VP Franchise Operations, "and they're doing something very right. Their challenge now is keeping up with demand." What makes Hounds Town different—and so successful—is that the pet care franchise offers fully interactive daycare, which means dogs are in play groups with "friends" all day long—from 6 a.m. until the evening. "People want peace of mind knowing their animals—which are really members of the family—are not only well taken care of while they are at work or on vacation, but that they are not locked in a kennel all day," explains Jackie.
Franchisees are strongly encouraged to post pictures and videos on Facebook and Instagram throughout the day, allowing owners to see exactly what their dogs are up to. "The concept creates a personal relationship with the owner and enables them to see firsthand what kind of experience their dogs are having. And the dogs have a blast!" says Jackie. The concept has also helped spread the word about Hounds Town USA organically, and can be partially attributed to the exponential growth. "The word is out," says Jackie, "Hounds Town Farmingdale is officially THE place to be if you're a dog."
What Hounds Town USA offers has proven to be a major magnet for people, including those whose dogs are unwelcome at similar facilities because of their breed. While other pet care franchises are rejecting "bully breeds," disabled, and senior dogs for a variety of reasons, Hounds Town USA is busy welcoming them. And it's paying off. "Our franchisees have the experience and knowledge to group and handle all types of dogs, regardless of breed, size, age, or disability," says Jackie. Each dog must pass a temperament evaluation, which involves introducing them to another resident dog and to the staff. After they pass, they are welcome to make daycare, boarding, and "spa" appointments and to take advantage of the extended hours of operation, luxury boarding, discounted Saturday daycare, monthly raffles, half price baths on rainy days, and much more.
It is anticipated that Hounds Town Farmingdale will experience their busiest summer yet, so any moms and dads looking to send their furry loved one on a PUPcation of their own should book early. Haven't been there yet? Call 631.465.9170 for a FREE temperament evaluation.
For more information on Hounds Town USA, visit www.houndstownusa.com.