The Journey Of Hounds Town USA
1982
Founder's Canine
Career Begins
Founder Michael Gould begins his canine
career as a founding member of the NYPD
canine unit.
1986
Mike Becomes the Boss!
Mike becomes the Commanding Officer of the Nassau County Canine Unit, going on to have a 15+ year career in police canine management.
1999
Mike gets the idea to
open a pet care facility
As Mike is getting ready to retire from the police
department, he has the idea to open a pet care
facility after recognizing the need for reliable and
honest pet care on Long Island.
2000
First Hounds Town Opens
Mike opens the first Hounds Town location, in a
1,200-square foot store in Port Jefferson, introducing
the idea of interactive daycare to the area.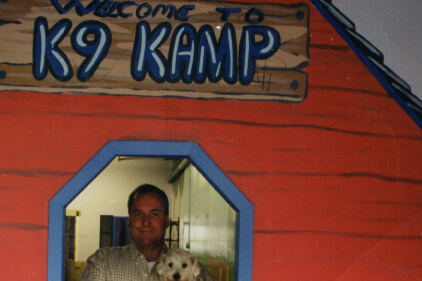 2001
Mike Gets Deployed
The events of 9/11 in New York call Mike and his
private scent detection dog company Canine
Consultants to aid in the recovery efforts at Ground
Zero. Mike gets deployed to Naples, Italy, as a
member of the naval reserves to run the Military
Working Dog program following the terrorist attacks.
2003
Hounds Town Expands
Hounds Town outgrows its first location, so Mike
leases the space next door to double the size of
the facility.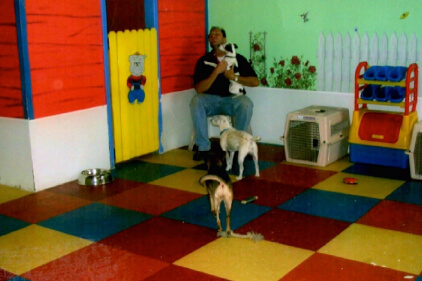 2004
Second Hounds Town
Location Opens
Mike purchases a building in Ronkonkoma and
establishes Hounds Town – Ronkonkoma.
2007
Hounds Town –
Port Jefferson Expands
After outgrowing the initial Hounds Town location, Mike
moves the first store, the Port Jefferson business, to a
7,000-square foot store which becomes Hounds Town
-Port Jefferson.
2012
Third Hounds Town
Opens and First
Franchise is Sold
Mike opens Hounds Town – Farmingdale
in April. Hounds Town – Port Jefferson
becomes the first franchise!
2017
Hounds Town Expands
to FIVE Stores
Hounds Town – Commack Rd. and Island Park open,
expanding the Hounds Town system to five locations.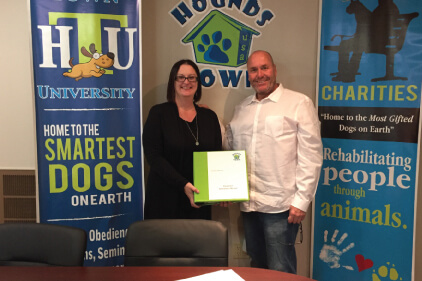 2018
Hounds Town Moves
Out of State
Hounds Town South Jersey Shore and
Bergen open, the first out of state Hounds Town locations.
2020
Four More Stores Open
Hounds Town expands to Pittsburgh, Florida, Las Vegas, Detroit, Atlanta, Maryland, Nashville, Philadelphia, and North Carolina. Hounds Town – Garden City and Hounds Town – Hicksville stores open in New York, making Long Island a sold out territory.