Just like the first day of school, your dog's first day of dog daycare or pet
boarding is fun and exciting, but also requires some getting used to.
Before You Arrive
First, if your dog is boarding with us, don't forget your reservation! In order to expedite the check in and out process, we require a few things:

• Please make sure your dog's rabies, bordetella (kennel cough), and distemper shots are up to date, and you can provide copies of the vaccinations.

• We strongly encourage you to bring your dog's own food for their stay. A sudden change in diet can cause upset tummies. To prevent possible discomfort and diarrhea, keeping your dog on the same meal plan really helps!

• We can provide our house food if you forget or if your food runs out.

• If your dog is sick, kindly call us to let us know and please don't bring them to daycare until they're back on their paws.

• Please be sure to bring your dog to doggie daycare on a leash.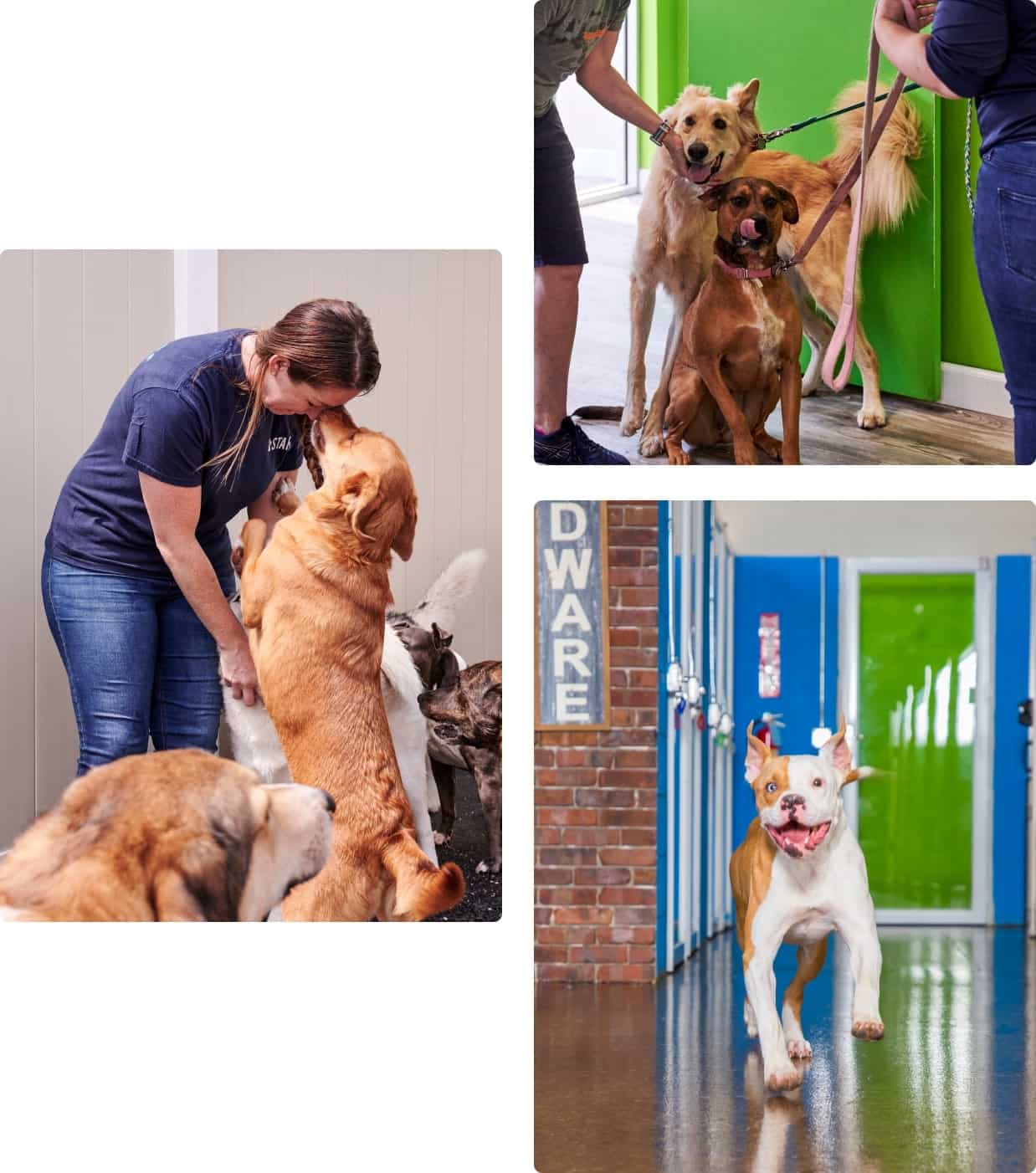 After you get home
• Fully interactive pet daycare is designed to be challenging both physically and psychologically for the dogs. Don't be alarmed if your dog comes home and sleeps for hours on end and appears lethargic. They aren't sick; they're worn out from all the playing! They might just have a Hounds Town Hangover!

• The excitement of being home may make your pet pant and appear very thirsty. We provide fresh water at all times, but they may need to drink more water when they arrive home and throughout the night, especially if they aren't used to all the activity that comes along with fully interactive doggie daycare.

• You may notice your dog has minor scratches. Again, don't be alarmed. They were just interacting and playing with their new friends the best way they can—with their paws and their mouth.
• We have a variety of floor surfaces at pet daycare including concrete, rubber, beach gravel, asphalt, just to name a few. Your dog may have sore feet or abrasions for a few days if he's accustomed to carpet or soft surfaces. Those paws will toughen over time.

• It is also not unusual for your dog to be limping or favoring one side for a few days. Like any athlete, they just have sore muscles from all the exercise.

• By the end of a busy week at daycare or after an overnight visit, your dog may smell a little "doggier" than usual. If your dog comes home tired, smelly, and dirty, it just means they had a great day at Hounds Town! We offer a full-service day spa designed to send your pup home smelling like roses, so please inquire about a bath upon check-in.

• If you have any questions, just ask us! We always welcome pet parents to call during the day and check up on their pup and to visit your location's Facebook and Instagram pages for photo updates.

Have additional questions? Check out our FAQs or call your nearest Hounds Town location!
Let's see what other
Happy Pet Parents

have to say