Contact us!

Business Hours

Monday-Friday

6 a.m.-7 p.m.

Saturday

8 a.m.-5 p.m.

Sunday

11 a.m.-1 p.m.

Important Info

We are closed to the public the following holidays: (there is no pick-up or drop off) New Year's Day, Easter, Memorial Day, Independence Day, Labor Day, Thanksgiving Day, Christmas Day

Lobby is closed to the public between 12 p.m. & 2 p.m. Monday through Saturday for nap time.
"*" indicates required fields
How can we help you?
Whether you're going to work or on a vacation,
or if your pup just needs a pampering,
Hounds Town USA has you covered!
Want to See The Home of the Happiest Dogs on Earth?
Hounds Town is like no other doggie daycare facility on Earth!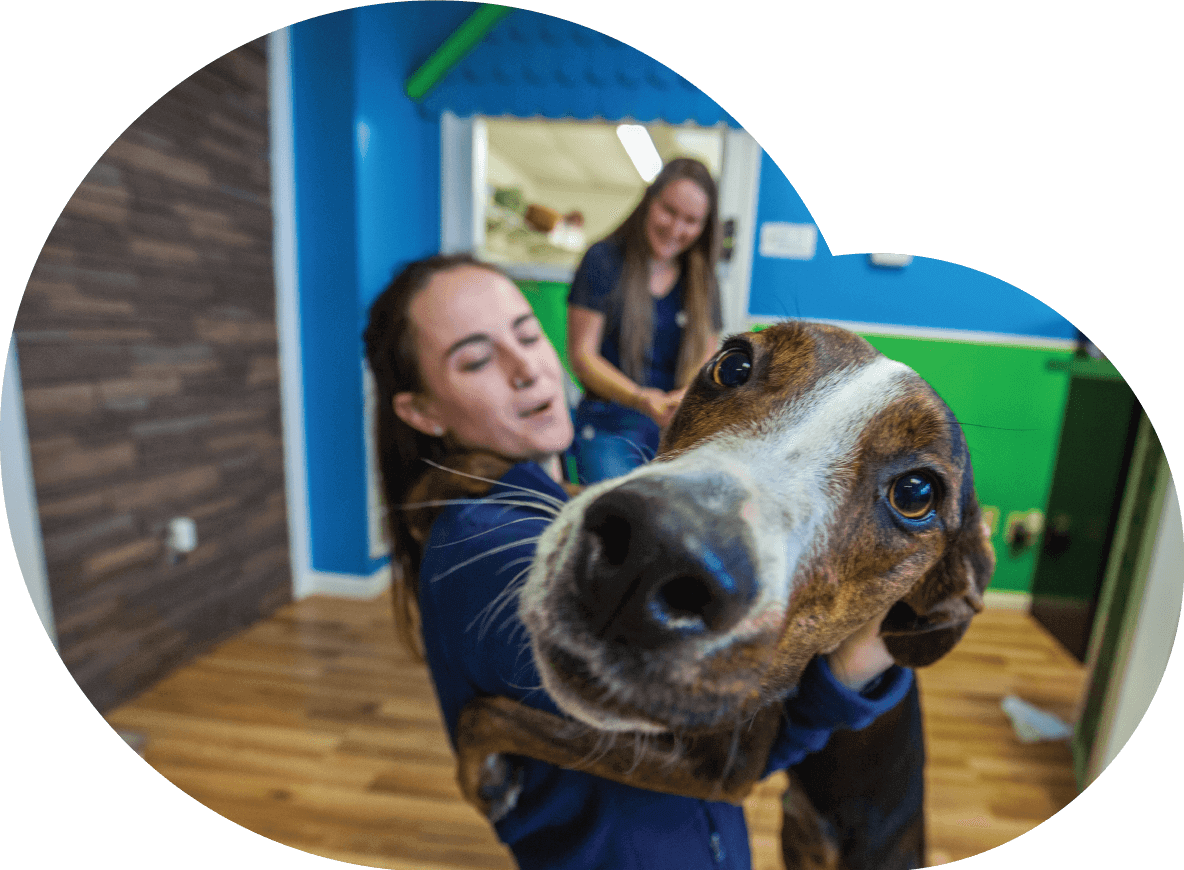 Happy Hounds Choose Hounds Town
Offering fully interactive doggie daycare, overnight dog boarding, and dog grooming services, Hounds Town – Stone Mountain is the place for dogs to be dogs! With 6,000 square feet of expansive play areas for all day play, large luxury suites for overnight dog boarding, a pampering doggie day spa offering bathing services, retail, and a pet taxi service, Hounds Town – Stone Mountain is a town designed just for dogs. Our natural pack environments allow dogs to play in groups of other dogs their own size, temperament, and play style all day long-socialization that contributes greatly to a balanced life for a dog. Our themed overnight boarding suites allow for a relaxing and restful sleep after a full day of play.

If you're looking for a fully interactive doggie daycare in Atlanta, Hounds Town is the place to be! Give us a call today to set up your FREE evaluation and first day and stay in the loop about opening date, specials and promotions! Opening February 2020.
Prices
Dog Daycare
Daily Fee

$25

2nd dog

10% discount

Saturdays

$21

5-pack

$120

10-pack

$220

20-pack

$400

*Packages expire 90 days from purchase
Dog Boarding
Night per dog, Townhome

$45

Night per dog, Luxury Suite

$60

Night per dog, 2 dogs boarding together in same Luxury Suite

$55

Late fee for pick-up after 12 p.m. Monday – Saturday

$22

*Free exit bath for stays over 7 days
Pet Spa
SALON MENU

O2 Infused Hydrosurge Spa Baths

Full blowouts

Nail Trimming and Grinding

Furminating

Tooth Brushing

De-Matting

Prices vary by breed, size, and hair type. Call us for a quote.
Cat Boarding
1 cat

$25

2nd cat

10% discount
Is our Doggy Daycare really that great!?
Let's see what other Happy Pet's Parents have to say.
Before you forget!
If you haven't already completed these forms, please download
and complete these forms prior to your evaluation appointment.
These forms are required for your evaluation
Don't forget to bring them!