Contact us!

Business Hours

Monday-Friday

7am - 7pm

Saturday

9am-4pm

Sunday

11am - 1pm (boarding drop-off/pick-up only)

Important Info

We are closed to the public the following holidays: (there is no pick-up or drop off) New Year's Day, Easter, Memorial Day, Independence Day, Labor Day, Thanksgiving Day, Christmas Day

Our lobby is closed to the public between 12 p.m. and 2 p.m. Monday through Saturday for some disruption-free downtime after a morning of play.
Book Your FREE Day of Daycare!
Using our online booking system, you can now book your initial evaluation to qualify for your first day of FREE Daycare. Click "Book Now" below and schedule your appointment today.

Before completing, please ensure your dog meets the following criteria:
• Has been spayed (6 months or older) or neutered (12 months or older)
• Up to date on shots (Rabies, Distemper, Bordetella)
• Is good around other dogs

Our location will e-mail you a new client form and appointment confirmation shortly. We look forward to seeing you and your dog(s) soon!
Our Services
Prices vary by location
Want to See The Home of the Happiest Dogs on Earth?
Hounds Town is like no other doggie daycare facility on Earth!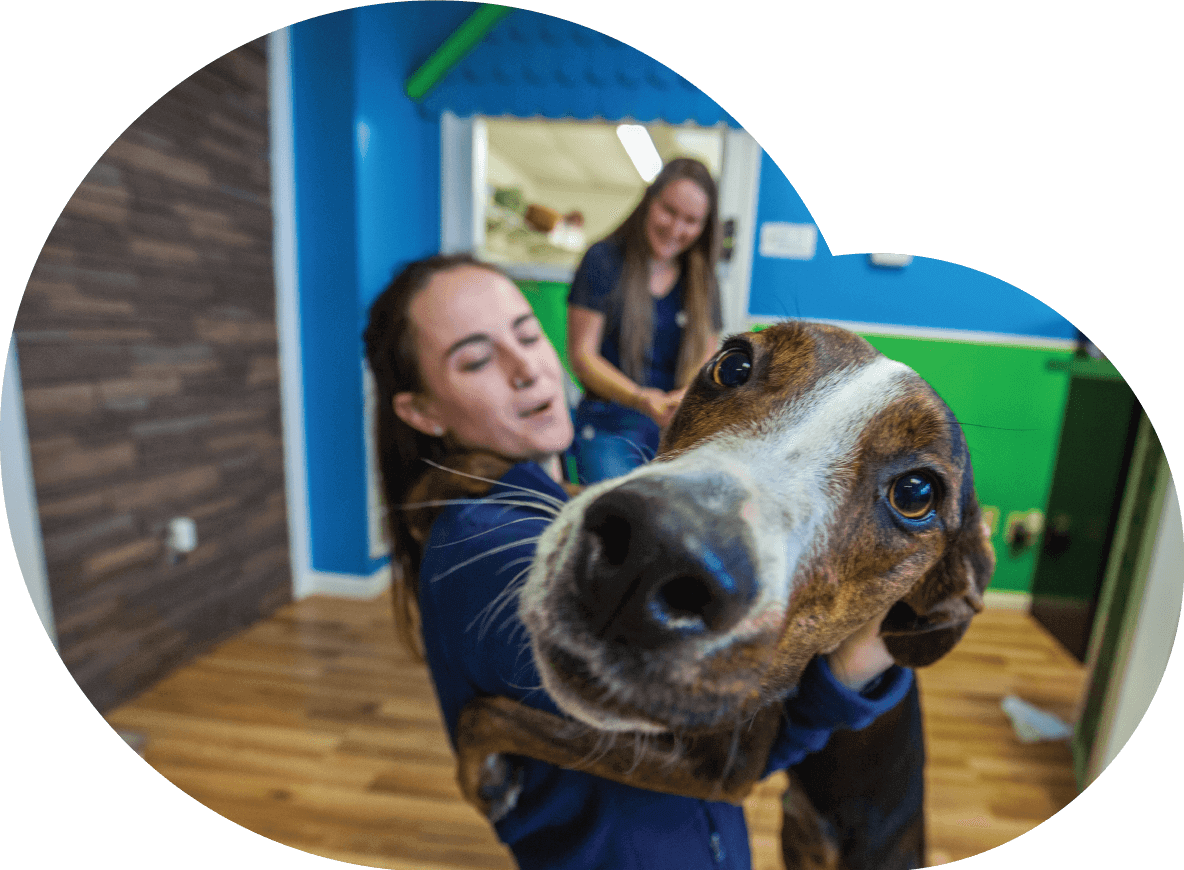 Happy Hounds Choose Hounds Town
Offering fully interactive doggie daycare, overnight dog boarding, and dog grooming services, Hounds Town – Charlotte - NoDa is the place for dogs to be dogs! With expansive play areas for all day play, large luxury suites for overnight dog boarding, a pampering doggie day spa offering bathing services, and retail, Hounds Town – Charlotte is a town designed just for dogs. Our natural pack environments allow dogs to play in groups of other dogs their own size, temperament, and play style all day long-socialization that contributes greatly to a balanced life for a dog. Our themed overnight boarding suites allow for a relaxing and restful sleep after a full day of play.

If you're looking for a fully interactive doggie daycare in Charlotte, Hounds Town is the place to be! Sign up today to schedule your dog's evaluation and to get your first day FREE!
Is our Doggy Daycare really that great!?
Let's see what other Happy Pet's Parents have to say.
Before you forget!
If you haven't already completed these forms, please download
and complete these forms prior to your evaluation appointment.
These forms are required for your evaluation
Don't forget to bring them!